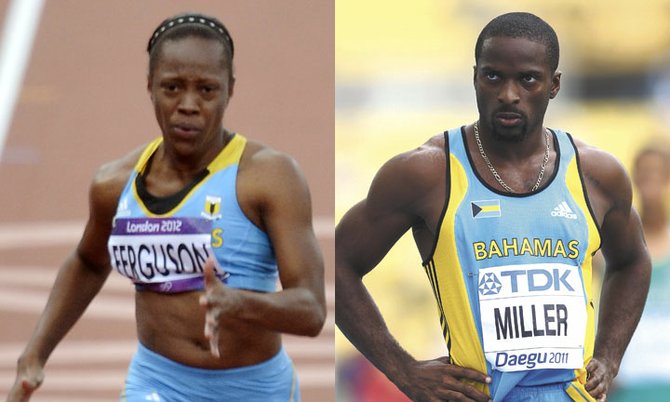 WITH less than a month remaining before the IAAF World Championships in Athletics are set to begin in Moscow, Russia, members of Team Bahamas continue to perform well on the European circuit.
Ramon Miller and Sheniqua Ferguson have been the most visible athletes recently, competing in Madrid, Switzerland and Finland within the last week.
Yesterday at the Lahti Games in Finland, Miller set a new national record in the 300m, an odd distance event, with a time of 32.40 seconds.
Last week, at the Madrid IAAF World Challenge in Madrid, Spain, the reigning 400m national champion won his signature event in 45.20.
Manteo Mitchell of the United States finished second in 45.25 and Arman Hall of the United States was third in 45.30.
Miller has recorded the ninth fastest 400m time on the IAAF top lists when he claimed the national championship in Freeport, Grand Bahama, in 44.93.
His time in Madrid was tied for 18th on the top list, giving him the top two times for Bahamian quartermilers for the season.
Also in Madrid, Ferguson took the women's B 100m in 11.33, for a seventh place finish overall.
A trio of US sprinters dominated the event led by Barbara Pierre in 10.92, Shalonda Solomon second in a season's best of 11.04 and Alex Anderson third in 11.07.
Racing yesterday at a European Athletics Classic meeting, Ferguson was the lone Bahamian in competition. She finished third in the 100m in 11.36 in the race won by Carrie Russell of Jamaica while Krasucki Franciela of Brazil was second in 11.29.