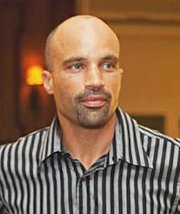 By NEIL HARTNELL
Tribune Business Editor
nhartnell@tribunemedia.net
A Bahamian developer yesterday said he was "questioning whether to proceed" with a $4 million-plus project after Stamp Act amendments effectively eliminated 50 per cent of his potential buyers.
Jason Kinsale, who has led the Balmoral development, told Tribune Business that the changes to the first-time buyer Stamp Duty exemption were making him reconsider whether he wanted "to go and put my neck on the line" and create another 50 construction jobs.
Revealing that he had been looking to start an upscale 16-unit condo project on West Ridge, just south of Super Value, Mr Kinsale said the $300,000 price point would have been targeted largely at first-time buyers
Yet his plans have been thrown into confusion by the post-Budget Stamp Act amendments, which appear to deny the exemption to purchasers whose combined mortgage and conveyancing values exceed $500,000.
Pointing out that this favoured all-cash buyers, Mr Kinsale said the amendment's effect would be to make "the rich, richer, and the poor, poorer".
Describing the Government's revised policy as "stupid", he warned that the legislative change threatened to further "derail" an already-fragile housing market and wider Bahamian economy, setting back recovery.
"It's really discouraging," Mr Kinsale told Tribune Business. "I was working on a new project out west, targeting the $300,000 buyer, and now I'm questioning whether to proceed with the project, as many prospects will not qualify for the first-time exemption.
"Those persons are not going to qualify, and now as a developer, I will say: 'I can't sell it, the market is tough'."
The first-time buyer Stamp Duty exemption, which is available for purchases valued at $500,000 or less, could conceivably save a buyer up to $50,000 - if their sales agreement is for them to pay the full 10 per cent.
But concerns had been raised over the previous exemption, after the Treasury began to implement a policy of adding mortgage and conveyance values together. The aggregate total often exceeded $500,000, and affected first-time buyers were thus being denied the exemption.
Mr Kinsale's view of the current law was previously backed by Adrian White, head of the Bahamas Bar Association's real estate committee, who told this newspaper the post-Budget amendments meant those buyers where the aggregate value exceeds $500,000 will not qualify.
"Why do I want to go and put my neck on the line, create jobs and invest?" Mr Kinsale asked, in response to the new exemption.
"It makes me question whether to do that. It's one more day for me to scratch my head as to whether to proceed.
"I was looking at doing 16 condos out by Super Value, just south of the store by West Ridge. "
Disclosing that he was targeting young professionals, many of whom would be first-time buyers, Mr Kinsale added: "If you calculate that 50 per cent of buyers will be first-timers, I will now have to find 50 per cent more prospects, as they don't have that exemption available."
Although acknowledging that the project would have been a small one in comparison to other New Providence real estate developments, Mr Kinsale said it would likely have created 50 construction jobs for one year.
"Fifty guys working for a year helps," he added. "Those guys might be now looking for work for another year. It's small, but that's 50 people that need work that I'm sure are out there."
Reflecting on the consequences of the exemption amendments, Mr Kinsale told Tribune Business: 
"When I boil it down, it's basically saying the rich get richer, the poor pet poorer."
This was because all-cash buyers, who needed the exemption the least, would receive it for real estate purchases valued at $500,000 or less, but the majority - who relied on mortgage financing and needed it the most - would not.
"The guys with cash don't need the exemption but are getting it, while the person desperately needing it does not," Mr Kinsale said.
"My concern is that ability to sell without that first-time buyer exemption is extremely difficult. They're already nervous now, and why it's unfair that people with money benefit from it. They should not be tying the mortgage into the equation at all. What impact does that have on whether you qualify or not?"
And Mr Kinsale added: "What's concerning about it is that looking at the people purchasing in my Balmoral development, I've had only two people in the last 20 get mortgages. Those are the people that need the exemption, but this is going to stifle it even more.
"That uncertainty in the economy, we don't need anything else derailing this economy and make us question whether to move forward. We need to take advantage, buy property and move forward. It's the only way to get it done."