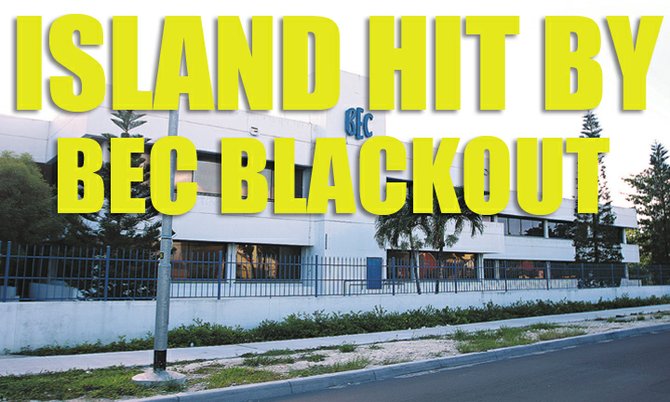 By SANCHESKA BROWN
Tribune Staff Reporter
sbrown@tribunemedia.net
RESIDENTS suffered an island-wide blackout after a circuit linking the Clifton Pier Power station and Windsor Field substation failed early yesterday morning.
Although electricity was partially restored by mid-day, thousands of Bahamas Electricity Corporation customers continued to experience power outages and electricity surges throughout the day.
In a statement, BEC said investigations into the outages are continuing.
"Initial findings suggest that the initial outage was caused by a system fault from a 33kv overhead circuit linking the Clifton Pier Power station and Windsor Field substation. The outage occurred at 4:39am and BEC teams were immediately dispatched. By 5:39am supply was restored to the first set of customers. The entire system was completely restored by 8:15am," the statement said.
"Unfortunately, subsequent to this morning's outage BEC experienced another setback when two of its engines at Clifton Pier tripped offline.  One of those engines has been brought back on. The remaining unit was expected to be back on within the next 48 hours. At present, approximately 2 per cent of customers remain without supply. However, the Corporation is hoping to have supplies completely restored by later this afternoon."
Assistant General Manager Shevonn Cambridge said the initial outage stressed the system and caused the subsequent outages.
"At 5pm, we were 95 per cent restored. What happened is we were experiencing challenges with one of the units at the Baillou Hill plant and a number of other issues came out of that outage, that was the original outage," he said.
"That caused some stress on our system and that resulted in issues with our generators. Most of the fleet is up and running. One unit will take more than 24 hours to repair, but we expect to have significant power by the end of the day."
Angry BEC customers vented their frustrations on social network sites most of them calling for the government to finally do something about the constant power outages.
One person said: "Every two to three minutes the power is going off. This is ridiculous. When is the government going to fix the problem? I swear, I am going to eat tuna for a year to save up and buy a generator."
Another person said: "I hate BEC. I been in Missouri almost three years and the power only dipped once. Almost been in a tornado and power stayed on. In the Bahamas, power cuts off if too much mosquito in the air."