By NEIL HARTNELL
Tribune Business Editor
nhartnell@tribunemedia.net
A Miami-based real estate private equity firm's bid to develop a high-end, boutique resort on Norman's Cay is "about to take off", a Cabinet Minister has told Tribune Business, with the Government "in the final stages" of providing all necessary approvals.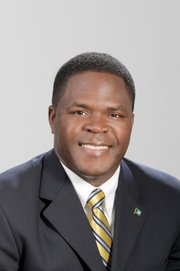 Khaalis Rolle, minister of state for investments in the Prime Minister's Office, confirmed to this newspaper that the Fort Capital Management proposal "is ready to go".
He said: "The Government is in the final stages of providing the last vestiges of an approval for Norman's Cay. That's about to takeoff very shortly. Norman's Cay is ready to go."
Adding that the Christie administration was "dusting off a lot of these old projects" in a bid to revive foreign direct investment and the private sector, Mr Rolle indicated that the developers were planning a boutique style, Aman-type resort for the island in the Exuma cays.
The project was approved by the former Ingraham administration during its last Cabinet meeting in May 2012, but Mr Rolle said more had been required from the Government to bring it to fruition.
"There were still a whole lot of things missing from it," the Minister added.
Fort Capital Management's project is the latest bid to develop an upscale, niche resort on Norman's Cay, a development that might help to banish memories of the 1970s-1980s, when the island was the hub for a major multinational drug smuggling operation led by the notorious Carlos 'Joe' Lehder.
It was confirmed to Tribune Business that Fort Capital Management's project will partially sit on the former Lehder properties, having been acquired from the Public Treasury in which they were vested.
But this newspaper understands that negotiations to acquire further real estate owned by a quartet of Bahamian investors - attorney R James Cole; Martin Solomon; accountant Greg Cleare; and top investment adviser, Mark Holowesko - have yet to bear fruit.
Sources close to the project said the Christie administration had essentially picked up where the former government had left off, with the Prime Minister very supportive of the developers.
"There's very good money behind it, Turkish money, so I think it's going to be a very successful project," one said.
On its website, Fort Capital Management bills itself as a 'real estate investment management company', with several real estate investment funds in its care.
It targets commercial and residential real estate investments in the Caribbean and south Florida, and was founded by Nadim Achi, its managing director, in 2009.
Mr Achi's biography states: "Prior to founding Fort Capital Management, Mr Achi was the founder and chief executive officer of Crescendo Capital, an investment advisory company with over $500 million in assets, and offices in Geneva and the Bahamas."
Fort Capital Management's website lists Norman's Cay in its 'portfolio', further confirmation of its plans for the island.
It said: "Located in the northern portion of the Exuma chain of Bahamian islands, with an airport and marina approved for international customs clearance, the remote island provides an exciting opportunity to create a world-class vacation destination.
"Fort Capital acquired a significant portion of the island and is creating a luxury resort."
No further details were provided, apart from a collage of photos of Norman's Cay, and requests for an interview went unanswered from Ford Capital Management's Miami offices.
The company's other assets include a variety of south Florida commercial and real estate developments, located in upscale areas such as South Beach.
George Smith, the former PLP Cabinet minister and Exuma MP, backed the Government's decision to proceed with the project approvals, describing Norman's Cay and its airport as "the focal point" for the island's northern cays.
"I gathered it was almost to the point of arriving at an agreement," Mr Smith told Tribune Business.
"It's very important in that Norman's Cay is really the focal point in the northern part of the Exuma Cays, particularly the use of the airport, which is destined for quite a bit of an upgrade.
"That is vital to the people who work and develop in areas stretching from the northernmost part of the Exumas to Wax Cay, near Norman's Cay, and all the other cays up to Cistern Cay, which is called Indigo Island.....
"It's rather important that Norman's Cay comes alive. It will greatly complement the development that is taking place further south at Bell Island, Butch Stewart has Fowl Cay, and there's Staniel Cay.
"All the cays play a role in high-end tourist development, as will Norman's Cay. It's very important, and will complement the efforts of other developers."
The Exuma Cays are rich in wildlife, and extremely important from a scientific research and environmental perspective.
Mr Smith said they provided a natural chain for boaters and visitors, adding: "It's the most focal part of the Bahamas.
"I'm delighted the Government has proceeded with the approvals. I hope the people buying it will do well, and I believe they will get every encouragement from the people of the Exumas."
Fort Capital Management's project is not the first attempt to get a high-end, boutique resort development underway on Norman's Cay.
Another Miami/New York-based developer, the Setai Group, spent the best part of a decade negotiating a Heads of Agreement for an Aman-branded resort on Norman's Cay, which would have sat in much the same spot as Fort Capital Management's proposed property.
However, after an agreement was finally reaching, after being held up for years, the recession struck and the Setai Group's ambitions went no further.
There were also reports that another Miami-based developer, The Brilla Group, was interested in doing a project on Norman's Cay, but again nothing happened.