By KHRISNA VIRGIL
kvirgil@tribunemedia.net
PRIME Minister Hubert Ingraham promised Androsians that another five years of his leadership would bring more upgrades and developments.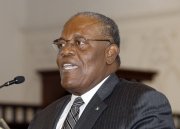 Mr Ingraham told FNMs at an Andros Rally that during the present term, his government dedicated large sums of money to infrastructure upgrades and road repavement.
He said: "We will cause the reconstruction and upgrade of all settlement roads here in Central Andros.
"As you know, we are constructing, at a cost of $1.7 million, the Fresh Creek Dock and building two new bridges down in South Andros at a cost of $1.7 million at Deep Creek and Little Creek.
"We have already delivered some of your needed infrastructure upgrades. Already we have spent some $2.5 million in Staniard Creek. We will soon move to Mastic Point."
Mr Ingraham also spoke of his administration's efforts to grant several hundred Androsians Crown land - which he noted the PLP failed to accomplish.
"We made significant progress on the long outstanding regularisation of occupation of Crown land by residents in Andros during this term in office.
"In total, 242 persons have been approved for the grant of Crown land in north and central Andros, some 100 of whom reside in settlements of central Andros.
"This process is regular and continuing, so additional families will be regularised as we move forward in the months and years ahead."
Mr Ingraham asked the crowd of about 300 supporters to vote for Ronald Bosfield in Mangrove Cay and South Andros, and Desmond Bannister in North Andros.